Useful information & tips
Olympic Games Tokyo 2020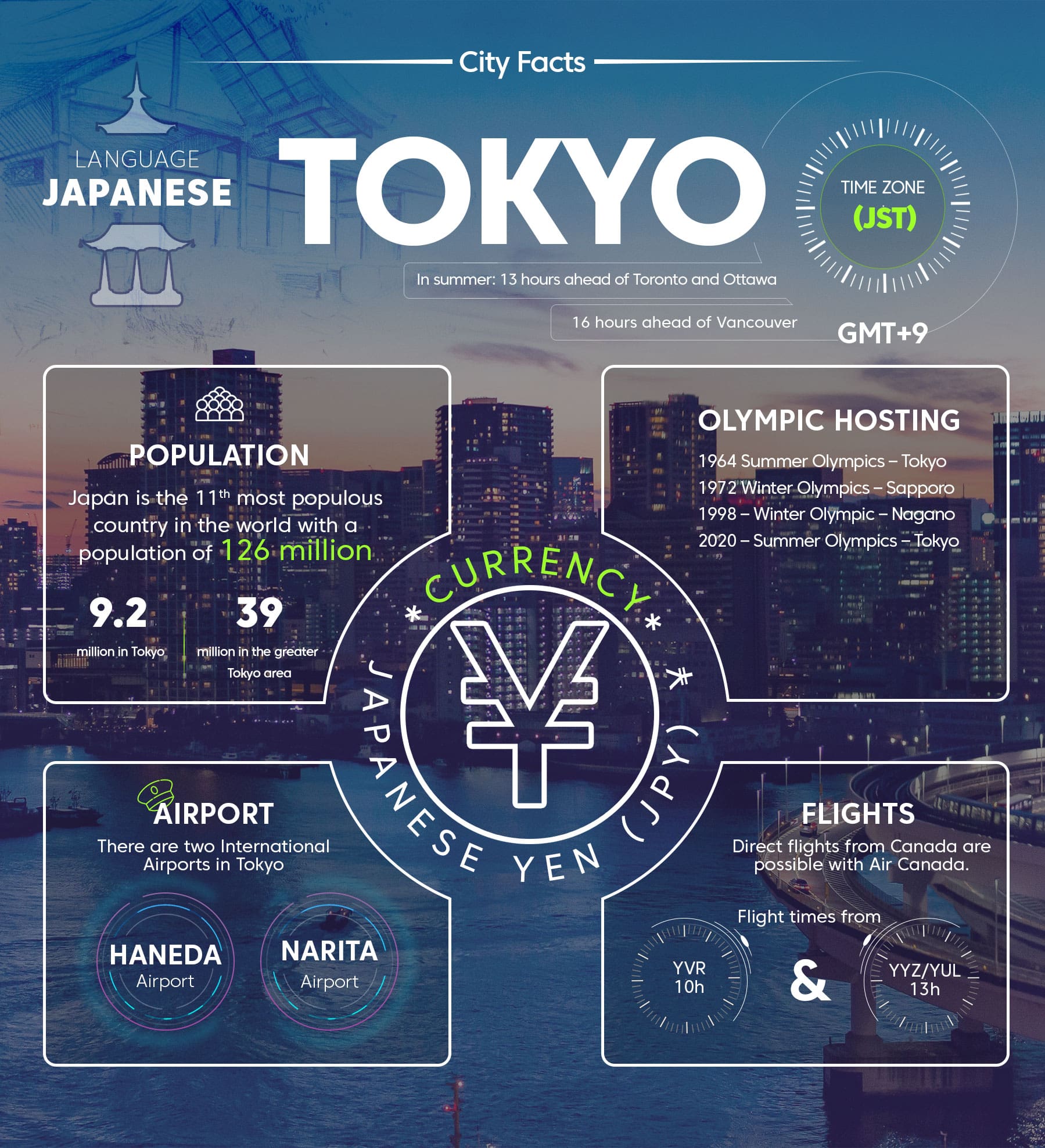 AIRPORT ACCESS TIPS
Japan has multiple international and local airports across the islands. Please find the best access from/to the airport you will be flying into/from here.
STORIES AND GUIDES
Explore Japan's vast cultural, eating, drinking and shopping scenes. Learn about different aspects of Japanese culture, find out where the best city shopping spots are, and brush up on bathing, drinking and dining etiquette. Read up before your trip and learn about Japanese manners and customs, what to expect, how to budget your travels and find out more about the shopping centers in Japan's largest cities. Here you can explore in-depth guides about food and culture, and get useful tips and travel hacks, so you can eat, drink, shop and navigate Japan like a pro.
LANGUAGE
Japan's official language is Japanese, but English is generally understood in major cities and designated tourist sites.
WI-FI & CONNECTIVITY
Wireless hotspots are popping up all over major cities in Japan, so you should never be too far from a Wi-Fi connection.
VISA
Canadian passport holders do not require a tourist visa for stays up to a maximum of 90 days. Japanese officials will photograph and fingerprint all visitors upon arrivals.
PASSPORT
Your passport must be valid for the expected duration of your stay in Japan. If you plan to travel to other countries in the region, check passport validity requirements for the countries you plan to visit. Japanese regulations require that visiting foreigners give detailed information when checking in at hotels or other lodging facilities and foreigners must allow their passports to be photocopied. You must carry your passport at all times. Police officers in Japan have the authority to ask for you identification documents at any time. Failure to comply could lead to detention or arrest. If you passport is lost or stolen, you should report this at a police station and get a police report – You can also liaise with the Canadian Embassy in Tokyo: 2 7-3-38 Akasaka, Minato-ku, Tokyo 107-8503, Japan.
TRAVEL INSURANCE
We strongly recommend that all participants arrange for their own travel medical insurance coverage prior to departure. Emergency Medical travel insurance from Manulife insurance provides coverage for unforeseen medical emergencies that can occur when travelling. They also offer Trip Cancellation insurance which protects against financial losses if a prepaid trip needs to be cancelled before you leave due to a covered reason. Visit this page to get a quote on travel insurance for your trip (this travel insurance is only available for Canadian residents).
If you need emergency medical assistance during your trip, dial 119 and ask for an ambulance. You should contact your insurance/medical assistance company promptly if you are referred to a medical facility for treatment.
MEDICATION
The use or possession of some common prescription over-the-counter medicines are banned under Japan's strictly enforced anti-stimulant drugs law. This includes Vicks inhalers, medicines for allergies and sinus problems, cold and flu medication containing Pseudoephedrine and even some over-the- counter painkillers like those containing codeine. Foreign nationals have been detained and deported for offences – ignorance may not be considered a defense.
Further information is available via www.mhlw.go.jp/english/topics/import.
VACCINATIONS
No special vaccinations are required for foreign travelers entering to Japan.
VOLTAGE/OUTLETS
The voltage in Japan is 100 Volts, which is different from North America (120V), Central Europe (230V) and most other regions in the world.
Japanese electrical plugs have two non-polarized pins.
SAFETY
Crime levels are low. It is generally safe to walk about at night and to travel on public transport, but you should maintain the same level of care you would at home and take sensible precautions.
As Japan is in a major earthquake zone, we recommend familiarizing yourself with safety procedures in the event of an earthquake or tsunami, and take note of instructions in hotel rooms and train stations.
CURRENCY
Japanese currency is called the yen, denoted by ¥.
Coins come in denominations of ¥1, ¥5, ¥10, ¥50, ¥100 and ¥500 and bills come in denominations of ¥1,000, ¥2,000, ¥5,000 and ¥10,000.
Japan is mainly a cash society and you may have difficulty using credit and debit cards issued outside Japan. Cirrys, Maestro, Link and Delta cash cards are not widely accepted.
TIPPING
Tipping is not common practice in Japan, so attempts to do so will often be met with confusion.
LOCAL CUSTOMS
Tattoos in Japan have a historical association with organized crime, and while attitudes towards them are increasingly accepting, many public swimming pools, hot springs, beaches, and some gyms do not admit anyone with tattoos. Other establishments may simply ask that any tattoos to be covered up while using facilities.
It is customary to remove your shoes when going indoors. If there is a change in the level of the floor at the entrance, this is an indication that you should remove your shoes. After removing your shoes, you should line them up on the lower side of the floor or on the shoe shelves, if available.
While many shops and restaurants do not require you to remove your shoes, some restaurants, such as those where guests sit on mats on the floor, will require you to remove your footwear. It is considered bad manners to show your toes, so plan to bring (or be wearing) socks. Learn more about Customs & Manners in Japan https://www.japan.travel/en/plan/customs-manners/
SHOPPING
"Tax Free" shopping is available at many stores in Tokyo for non-residents. You are required to show your passport with your entry stamp to be eligible.
WATER
Tokyo's tap water is safe to drink and conforms to strict quality regulations.
CLIMATE AND WEATHER ADVICE
Please check out the following link to give you some helpful information about weather and geography in Japan: https://www.japan.travel/en/plan/weather/
ACCESSIBILITY
All the Games' venues, facilities, infrastructure and services provided for the Olympic Games will be fully accessible. The urban development plan of the Tokyo Metropolitan Government includes barrier-free roads around competition venues and tourist facilities, which are expected to be completed by 2020.
Train and bus operators are now upgrading their facilities with the aim of making Tokyo a city with one of the most accessible public transport networks in the world by 2020.
Already more than 90% of stations in Tokyo have step-free access, universal access toilets, tactile paving to assist the visually impaired. Follow this link for more details https://www.japan.travel/en/guide/accessibility-in-japan/